"King of Lag" Reveals How you Can Develop More
Club Head Speed and Better Impact in Your Swing
No matter your experience, handicap or skill level, you can develop quality impact on each swing, and become a better ball striker immediately. Watch this game changing video to find out how…
Proof Positive Bobby Clampett's Methods Work!
"Great visual - so easy to understand"

"The DVDs are so easy to understand and gave me a great visual of how I should be hitting the ball. For those who can dedicate a few minutes a day towards your learning concepts, I guarantee they will greatly improve their game and begin to enjoy the process of learning on a daily basis!"

– John Kuczeski

"It is all about IMPACT!"

"It is amazing to me how many perfect swing theories and systems are being taught today when it is all about IMPACT! Ben Hogan said it, Jack Nicklaus said it, Lee Trevino said it, Tom Watson said it and Bobby Clampett EXPLAINED it"

– Lee Martin

"So simple it's hard to believe"

"The impact zone is almost so simple it's hard to believe that you can make as much improvement in a short amount of time focusing on just five things."

– Eileen Schloss
"What a huge difference! I'm pumped!"

"Wow! Thanks so much for the DVDs – what a huge difference! I can actually hear the ball compress and I'm hitting my driver at least another 25 plus yards. I'm making solid contact on fairway woods which I used to top. I'm pumped! Since using the flat wrist principle my shot consistency is amazing!"

– Lee Bailey

"Best lesson I've had and cost 10 times less!"

"I just received the DVD 4 disc set and watched all 4 DVD's. After watching, I immediately went outside and did the tic-tac-toe drill in the snow as it is February. I then placed a ball down in the snow and swung away… Amazed at how much of a difference I saw in just 5 minutes. With no traction keep in mind, I hit my 8 iron as far as what looked to be my normal 6 iron. I can't wait until spring comes around when I can really tackle the drills and see what I can do. I already know this will be a success. Best lesson I have had and cost about 10 times less!"

– Bryant Piper
MONDAY – FRIDAY · 9:00AM – 5:00PM Eastern
Here's Your Unconditional,
No Hassle, No-Questions-Asked
365-Day 100% Money-Back
Satisfaction Guarantee...
Don't decide now… just take it for a test drive!
You've got a full year to try the incredible Impact Zone Golf Coaching System! Practice the drills, visualize the motions, absorb the philosophy – really put it to the test. Here's your chance to prove Bobby right or wrong…One Hundred Percent RISK-FREE.
Put these simple concepts to work in your game and if you're not absolutely THRILLED with the improvements in your drives, your accuracy and consistency – at ANY time during the next 365 days – then simply return it for a full refund of your purchase price.
So What Are You Waiting For?
Stop wasting your money on lessons that make your swing "look" pretty and start learning how to make your swing "perform" well. Get The IMPACT ZONE Club Head Lag Program from Bobby Clampett and unlock your true golf potential.
Rush me Bobby's
Impact Zone

Club Head Lag Program so I can finally learn how to hit longer & more consistently with the impact position of a touring professional
With The
Impact Zone

Golf Guarantee, I get 365 days to test the incredible training system RISK-FREE!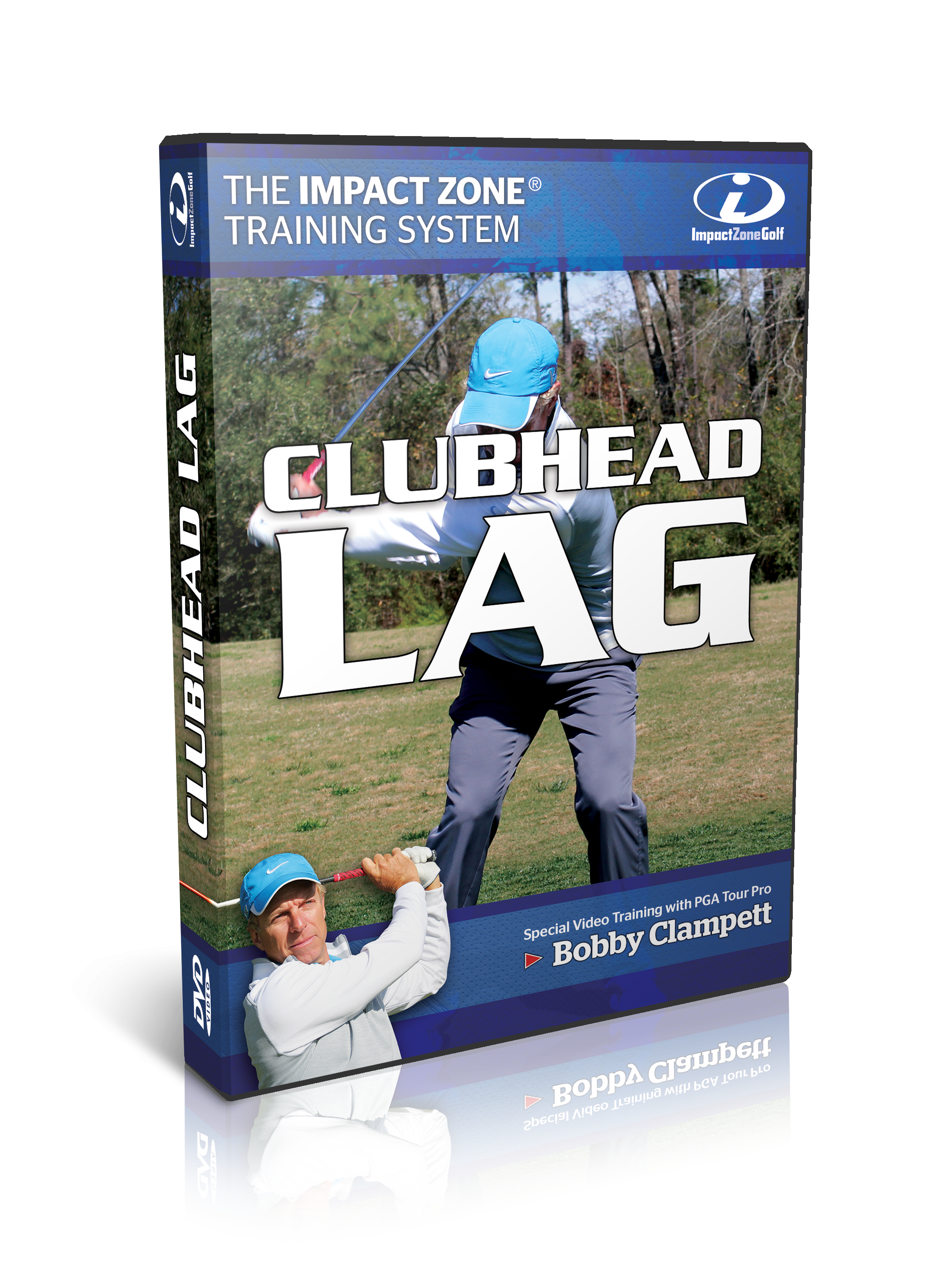 The
Impact Zone

Training System - Clubhead Lag Program

When you receive this DVD program, shipped directly to your door, you will discover...
The Throwing Drill
The Band Drill
The Swimming Pool Drill
The Long Grass Drill
The Towel Drill
The Slow-mo Drill
and many more...
You'll also get instant online access to your videos - so you can start your training now! As soon as you complete your order, you'll receive a streaming link that you can use immediately.
Get the

Impact Zone Club Head Lag DVD

Set: $39.95
Add To Cart
MONDAY – FRIDAY · 9:00AM – 5:00PM Eastern
Here's What the Pros are Saying about

The Impact Zone™

Training System…
"Simple and pretty amazing to watch Bobby…"

"Whenever I do clinics with Bobby he talks to the amateurs about making good practice swings. Because what is a golf swing, if not just a practice swing with the golf ball getting in the way? Whenever we've played golf together or done clinics it's pretty simple and it's pretty amazing to watch him just make divot swings. Then he hits a shot and puts a ball in front of it and it's the same beautiful swing – and the ball reacts accordingly."

– Peter Jacobson, Champions Tour Player & Broadcaster

"This is the secret to hitting a golf ball"

"The impact position and the impact that you have on the golf ball is definitely the most important thing. All of the rest of the golf swing is to just getting you to that impact position. So if you get that proper impact position, you don't have to swing very hard. That's why us old fat guys can hit the ball so far is because we get everything into it. That's the secret to hitting a golf ball is to create that impact position."

– Brad Bryant, Champions Tour Player

"Great swings work on that area at the bottom of the swing"

"You can't teach a Freddie Couples swing. You would never teach a Raymond Floyd Swing. You wouldn't want to teach an Arnold Palmer swing fundamentally. But they all work on that area at the bottom of the swing."

– Fred Funk, Champions Tour Player

"The impact position is a constant of the best players in the world"

"All the best players get into a great impact position. They do it many different ways. Many different backswings, many different heights, planes are different; but the impact position is a constant of the best players in the world."

– Jay Haas, Champions Tour Player

"Bobby's come up with the basics of how to create a good, solid, clean golf shot with consistency."

– Loren Roberts, Champions Tour Player
Yes! I'm Ready to Transform My Game!